News / Events
Grace House Akron Updates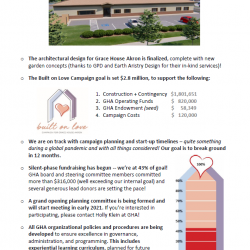 Dec 01, 2020
Dear Friends:
Having served as an in-home hospice nurse and administrator for most of my career, I have helped hundreds of people live out the last weeks or days of their lives with care and dignity. As the Co-Founder of Grace House Akron, I feel profoundly grateful that individuals without a roof over their heads, adequate insurance, close caregivers or resources will soon have a place to call home during the final stage of their lives.
Today, I write to share my deepest appreciation for your support during our first several years of organizational development. Our team also wanted to share some 2020 updates – it has been a wildly productive year for Grace House! Planning for and starting a capital campaign during COVID-19 was uncharted territory, and it may (or may not!) impact our project timeline, but our lead volunteer teams are excited, full of passion for the mission, and undaunted!
Our Built on Love Capital Campaign is now officially in its "silent" phase, and we are thrilled to share that our board and lead volunteers -- plus several amazing lead donors -- have so generously stepped up to set the pace. We will be reaching out far and wide in the coming months to meet our campaign goal of $2.8 million!
Please see the attached for a few key highlights and current activities. I'd love to hear from you if you have ideas or want to get more involved.
In closing, please accept my sincere thanks, again. This journey is far from over, but we are getting there -- one caring volunteer, one act of kindness and one contribution at a time! We hope to see you in person in 2021; in the meantime, please stay healthy and safe.
Wishing you a peaceful, happy season! 
Yours gratefully,
Holly Klein
Co-Founder and Executive Director